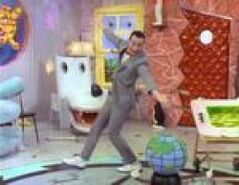 Episode Plot
Edit
Pee-wee and the members of the playhouse lip-synch to an old record (naturally played by Conky). Pee-wee plays with the Playhouse Gang. While Pee-wee's gone, Cowboy Curtis comes over and sings a song about flowers, Miss Yvonne comes over and clog dances; she later takes a bubble bath. Everyone decides to surprise Pee-wee with a snack, only Pee-wee also brings back a snack—an ice cream cake. Everyone has snack time before Herman leaves.
The Playhouse Gang, Cowboy Curtis, and Miss Yvonne visit in this episode.
The song that Pee-Wee lip syncs to at the beginning of this episode is George and Ira Gerschwin's "That Certain Feeling".
First appearance of Rapunzel, Fabian and Lil' Punkin, the new Playhouse Gang members. Their final appearance is in School.
Secret word: cool
Connect-the-dots: roller coaster
Snack: ice cream and cake pudding
Wish: Miss Yvonne wishes for clogging shoes
Community content is available under
CC-BY-SA
unless otherwise noted.