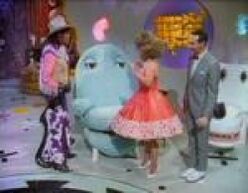 Episode Plot
Edit
In the season finale, Mrs. Rene uses the exercise belt. Everyone tries to guess the secret word, until Conky reveals the true secret word, which is more. Pee-wee makes frozen fruit cubes for snack. Cowboy Curtis comes over, and they have an adventure in the Magic Screen. Pee-wee reads pen pal letters. Cowboy Curtis sings a song with the secret word. Miss Yvonne comes over and everyone plays despartment store. Everyone has the frozen fruit cubes.
Mrs. Rene, Cowboy Curtis, Reba, and Miss Yvonne visit in this episode.
This episode marked the last time that Pee-Wee's exercise belt speaks.
When the gang is playing store, Herman decides to name the department store Herman's Department Store, once again making the implication that "Pee-Wee" is a nickname rather than a first name. This would be referenced again in Dr. Pee Wee and the Del Rubios and Chairry-Tee Drive later on.
The Picturephone is used as a pretend elevator when Store is being played. It is revealed that up to three people can enter it despite there being only one seat.
Cowboy Curtis is the second character in the show to play the guitar. The first character that did this was Conky in Just Another Day.
First time someone other than Pee-wee goes in the Magic Screen.
This is the first time a Penny cartoon is shown before The King of Cartoons shows a cartoon.
This episode marked the first time there was no wish in an episode.
Secret word: more
Connect-the-dots: rail cart with tracks
Snack: Frozen fruit cubes
Wish: none
Game: Herman's Department Store