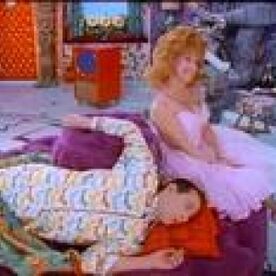 Episode Plot
Edit
Pee-wee plays tic-tac-toe with Magic Screen, but loses when Randy tricks him into a wrong move. Pee-wee gets the secret word from Conky, which is "nice", and tricks Mr. Kite into saying it. Miss Yvonne then calls on the Picturephone and asks to stay at the playhouse for a few days while her house is being painted. Everyone cleans up and looks forward to having Miss Yvonne stay... until Pee-wee learns that, despite her high-maintenance image, she is a sloppy and demanding houseguest; with Jambi's help, Miss Yvonne's house is done being painted and she can go back home, but then Cowntess has her house painted and wants to stay at the playhouse.
Miss Yvonne visits in this episode, hence the episode's title. However, her visit is considerably longer than just a few minutes due to her house being painted.

We find out that when she moves into someone's home, she brings in all her dresses, makeup and beauty supplies to maintain her famous looks.

When Miss Yvonne is waking Pee-wee from sleep, she asks him "Did you have a nice night's sleep?" and no one screams even though the secret word is "nice".
When told that Miss Yvonne will be coming over to stay for a few days, Conky offers to help vacuum, Magic Screen offers to mop, and Pterri and Globey say they will dust.
Vic Trevino (Ricardo) is credited, but doesn't exactly appear as Ricardo in this episode.
Martin Azarow played Michael Angelo (the painter).
El Hombre and Penny are shown in this episode.
The dress that Miss Yvonne wore in the Christmas special is seen on a rack near the bed.
A parody of American Gothic, in which the head of the farmer is not shown, is seen as one of the pictures Pee-wee pulls down in the Picturephone. The woman's eyes are bugged out, as if in a state of shock, and more of the iconic house is shown.
The Picturephone is used four times in this episode.
This is the only time that Pee-Wee held the receiver can to his left ear instead of his right ear during the fourth call on the Picturephone.
Secret word: nice
Connect-the-dots: none, but is mentioned
Snack: Pancakes with fruit faces
Wish: Miss Yvonne's house was done being painted so she can leave (Pterri almost wishes that Miss Yvonne could stay forever, but Jambi doesn't hear him)
Community content is available under
CC-BY-SA
unless otherwise noted.